Visual Spontaneous Combustions...
This project started 6-7 years ago. I noticed floating leaves and blossoms in my backyard. On closer inspection I discovered they were all suspended by spider webs. The more I looked the more I found. I call them "Spontaneous Visual Combustions." The illusion of motion frozen in time.... the same definition for photography.
​
​
The View From Here...
These are parts of my world that arrest me. I collect them and bring them home like a beachcomber. They are my windows to see through and my mirrors to reflect on.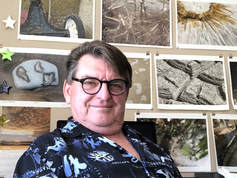 ​Don lives between San Diego and Los Angeles near the ocean. He works in photomontage, straight photography and mixed media. His teaching includes the International Center for Photography in NYC, Prescott College, various Community Colleges and at Arizona State University as a graduate student.
© 2018 Don Fike